The Adventures in Diving program offers both the Adventure Diver and Advanced Open Water Diver certifications. If you complete any three adventure dives, you can earn your PADI Adventure Diver certification. If you complete your Deep Adventure Dive, Underwater Navigation Adventure Dive and three Adventure Dives for a total of five, you can earn your Advanced Open Water Diver certification.
Why PADI Adventure Diver?
Have you always wanted to try underwater photography? How about wreck diving? Here's your chance because you can sample three dives of your choice, get a taste of what you like, and feel more comfortable in the water, strengthening your underwater skills and letting you enjoy diving more than ever.
What do I need to start?
PADI Open Water Diver or Junior Open Water Diver certification (or qualifying certification from another organization)
Minimum age: 15 years old (10 for PADI Junior Adventure Diver)
What will I do?
This certification includes three of the following Adventure Dives:
Adventure Dives available to divers 10 years old and older:

AWARE-Fish Identification
Underwater Naturalist
Boat Diver
Underwater Navigator
Peak Performance Buoyancy
Underwater Photography

Additional Adventure Dives available to divers 12 years old and older:

Altitude Diver
Multilevel Diver
Deep Diver
Night Diver
Diver Propulsion Vehicle
Search and Recovery Diver
Drift Diver
Underwater Videography
Dry Suit Diver
Wreck Diver.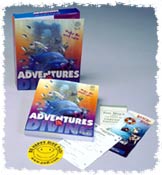 How long will it take?
Recommended Course Hours: nine
Maximum Open Water Training: three dives over one day
What will I need?
Adventures in Diving Crew-Pak
Adventures in Diving Video
Log Book